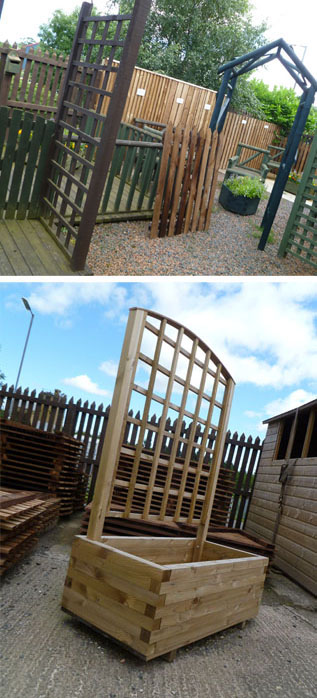 More and more pressure treated timber is being used to help create attractive and durable landscape environments. From decorative raised beds and planters through to retaining logs, and sleepers. Timber is easily worked and blends into its natural surroundings, in either a green or brown treated finish.
Robertson Timber offers a range of timber garden furniture, including arches, trellis products, seating, also sheds and kennels provide attractive and sturdy storage and housing solutions in the garden.
Our garden fencing timbers create sturdy and attractive boundary backgrounds and we offer a range of field and domestic gates to allow access where required. For equestrian projects we also offer a range of jump poles.
All are pressure preservative pre-treated within our own treatment facilities using the latest generation TANALITH 9000 wood preservative incorporating the very latest BARamine technology to provide long term protection against decay and insect attack.
To help with garden safety and maintenance our ornamental bark and mulch products are always available.
To view our full range of landscaping and garden products click on the links below.
Decking Timbers
Landscaping Timbers
Fencing General
Gates and Fixings
General Accessories